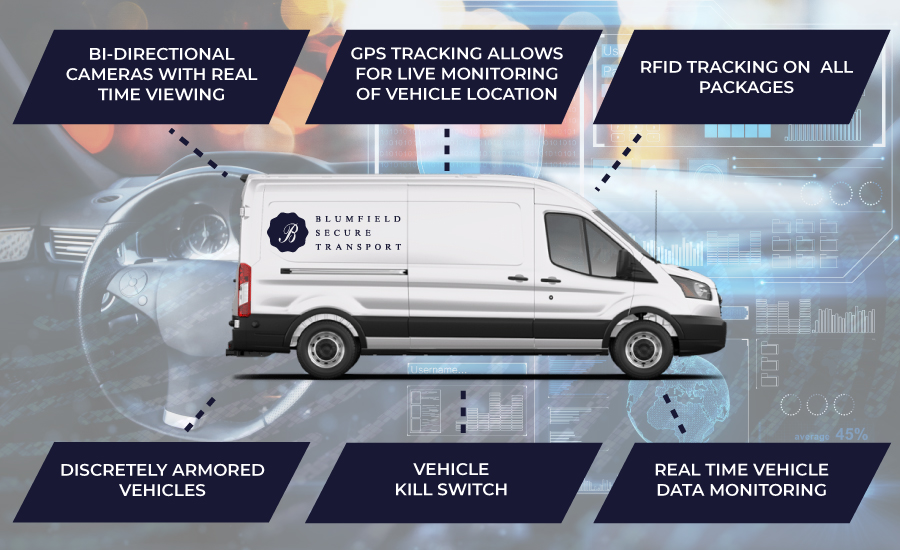 There are several vital security factors and/or requirements that directly relate to the marijuana industry. In this article we aim to capture 5 simple processes to follow, to ensure that you are always in compliance with the industry standards when transporting marijuana.
This article will serve to provide you with a keen sense of awareness, to fill you with confidence that the correct processes are being followed by your carrier to ensure safe, reliable and secure transportation of marijuana from supplier to provider.
Secure the Shipment – Keep Cash and Marijuana Separate
Always be sure that the cargo (marijuana) or cash is secured in a locked container. Remember, the cash cannot be in the same container as the marijuana, in most states this deems the transfer as illegal.
Report Route Plan to State-Wide Tracking System – Keep Paperwork Readily Available
Ensure that the proper route plan report is submitted to the state-wide tracking system and that the associated paperwork is on-hand, readily available to present to law enforcement authorities if requested.
Report Vehicle Carrying the Shipment to State-Wide Tracking System
Be sure to report not only the route plan to the state-wide tracking system, but also the vehicle that will be completing the route. This is not only a requirement in most states if not all but is a way of protecting those within the vehicle in addition to the company sending the cargo.
NO Taboo Markings or Marijuana Marketing Material
Remember, no marketing material featuring marijuana or announcing that marijuana is present is permitted to be placed on the vehicle. The vehicle should be discreet, professional and must abide by all industry standards/regulations enacted by your state and local laws.
Insurance Coverage – Liability and Product Liability
In almost all states where one can transport marijuana as a business, you will be required to maintain liability insurance. You may also want to consider product liability insurance, as this will protect not only you – but your client's investment as well. As always, it is better to be safe than sorry.
If you are a business seeking a secure and reliable world class transportation company with the uppermost standards for asset protection to transport your marijuana, be sure to steer toward Blumfield Secure Transport.
With an outstanding reputation and a highly trained professional fleet, Blumfield Secure Transport is always taking the necessary steps and precautions to ensure the clients cargo remains secure and is delivered to the source on-time.
**Disclaimer: This article is not intended to be legally binding nor a form of legal advice. If you plan to transport marijuana as a business, we strongly recommend that you first seek advice from a qualified attorney or a legal representative in your state to ensure you are abiding by all state and local laws.