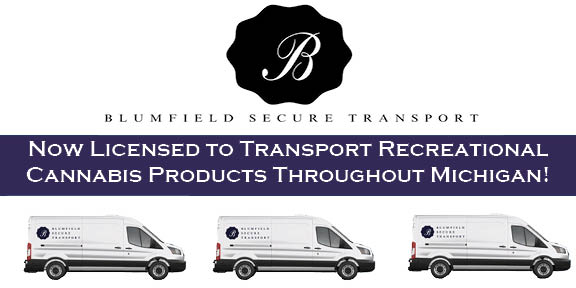 Blumfield Secure Transport is excited to announce that we are officially licensed to transport recreational cannabis products within the state of Michigan. Whether your cannabis transportation needs are recreational or medicinal, Blumfield Secure is able to assist in the safe transportation of your assets, cannabis products, and currencies throughout Michigan. Blumfield Secure Transport is in full compliance with all guidelines relating to the transportation of both recreational and medicinal cannabis.
The recreational cannabis industry is ever-growing and it is just beginning for Michigan. With more counties within Michigan legalizing recreational marijuana, Blumfield Secure is ready to partner with new or established cannabis companies as their primary secure transporter.
Blumfield Secure Transport is able to work with many different businesses within the cannabis industry. Our highly trained and vetted drivers are able to transport to/from: growers, processors, dispensaries, and financial institutions for our customers.
Call us today for a quote! We are your trusted partner for all your secure transportation needs.